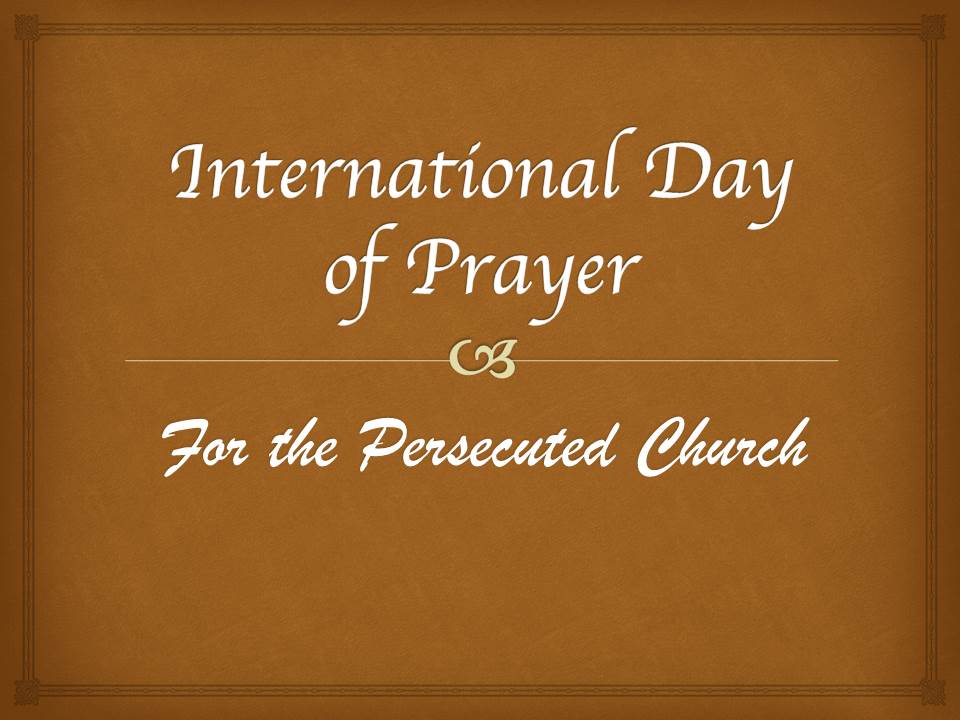 Jubilee Campaign invites you to join us in this year's International Day of Prayer. Each year we join ministries and churches around the world to encourage Christians to set aside a Sunday in November as a special day of prayer for the persecuted church.
This year, Jubilee Campaign will speak about the International Day of Prayer on November 13 at Redeeming Grace Church in Fairfax, VA.
Why do we set aside a whole day to pray for persecuted Christians?
Recent reports indicate that most acts of religious discrimination in the world today are directed at Christians. From 2000-2010, The Centre for the Study of Global Christianity found that 100,000 Christians died every year because of their faith – about 11 every hour. Religion-related terrorism has reached new highs in recent years. The persecuted church needs our prayers!
Are you interested in participating in the International Day of Prayer but you're not sure what countries to pray for? Here are some of the countries Jubilee Campaign is working in now:
Nigeria: A militant group in Nigeria associated with the Fulani herdsmen have become increasingly dangerous. After killing 1,229 people in 2014, they were declared the fourth deadliest terrorist group in the world. With the presence of the Boko Haram terrorist organization, the world's deadliest terrorist organization, Nigeria contains two of the top terrorist groups in the world. One of the largest attacks happened earlier this year when Fulani militants killed 300-500 villagers within a few days in Agatu. The Fulani militants have gotten little international attention due to a focus on the Boko Haram, allowing their activities to grow unchecked. They typically kill villagers, burn villages, and move in with their cattle so that any survivors from the attacked village are unable to return and rebuild their lives. Christian communities have been especially attacked and displaced.
Also, this past April marked the two-year anniversary of the kidnapping of over 200 mostly Christian schoolgirls from the town of Chibok by Boko Haram terrorists. Though some have since been released, many remain captive. The Islamist terrorist group abducted over 2,000 women and girls from 2014-2015 and killed at least 6,000 Muslim and Christian civilians in 2014. Fulani militants reportedly killed over 1,000 people in response to land disputes in 2014. Many Christians have reported a lack of protection by federal, state, and local authorities.
Partnering with a Nigerian ministry, Jubilee Campaign provided relief supplies for families staying in Internally Displaced Persons camps. Jubilee Campaign Netherlands members have also been meeting with Nigerian government officials to discuss the issues of violence and vulnerability among their people.
Pray that jihad and intolerant Islamic extremism will be rejected and that militants' plans will fail. Pray that captives would be freed and Nigerian believers would be strengthened in their faith. Pray for President Muhammadu Buhari and the Nigerian government to make wise and peace improving decisions.
Christian Refugees in Thailand: There are now 8,000-9,000 Pakistanis seeking asylum in Thailand and most of them are Christians. Many Christians in Pakistan are forced to flee to Thailand due to intense persecution. Country reports on Pakistan reveal that Christian communities face great risk of attacks from Islamist extremists. It is also common for Christians to be accused of blasphemy, which can carry the death penalty. Many Pakistani Christians use a tourist visa to quickly enter Thailand, but they are not protected nor accepted as refugees.
Thailand has not signed the international refugee convention that requires countries to protect refugees and has no formal national asylum framework. Worse yet, Thailand's Immigration Act considers these asylum-seekers illegal immigrants subject to arrest, detention and deportation. This situation restricts their access to work, health care, and housing. Thai authorities have recently organized massive raids to find and imprison immigrants with expired visas. Asylum-seekers detained in the Immigration Detention Centre (IDC) face overcrowded and unsanitary conditions. Over 100 Pakistani Christians are currently in the IDC, according to the British Pakistani Christian Association.
Jubilee Campaign is concerned about the handling by the UNHCR office in Bangkok of the Pakistani Christian asylum claims, as a majority of Christians' cases have been unjustifiably denied. Recently interviewed Pakistani Christians "feel the UNHCR treats their applications unsympathetically and thereby delays their resettlement."
Please pray for relief workers who are bringing aid to the Pakistani asylum-seekers in Thailand. Pray for strength for the Christians there who are imprisoned or marginalized from society, especially those with young children. Pray that the UNHCR would quickly resolve refugees' cases. In addition to your prayers, if you would like to support these refugees financially, please visit https://www.youcaring.com/christian-refugees-614066