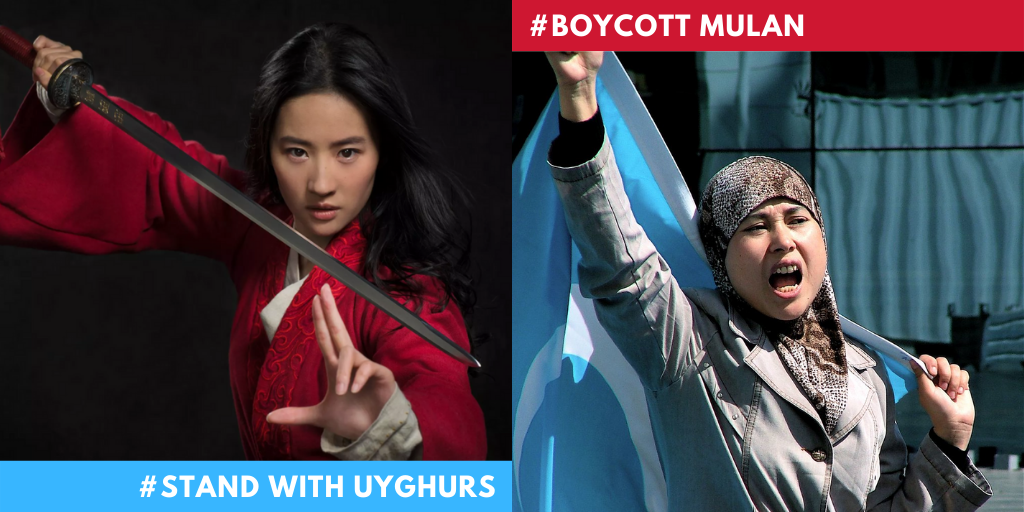 In 2020, human rights and religious freedom advocacy NGO Jubilee Campaign urges everyone to #BoycottMulan and #StandWithUyghurs. With consideration for the increasingly worsening human rights situation in China and the release of Disney Pictures' 2020 live action feature film Mulan, Jubilee Campaign is drafting a letter addressed to Mr. Robert Iger and Mr. Bob Chapek, Executive Chairman and CEO of The Walt Disney Company, respectively.
In 2015, Walt Disney announced that the company would be producing a live-action remake of its 1998 animated film Mulan. The five-year project was finally released in September 2020, and it is our understanding that the majority of the filming took place between 2016 and 2018, with some scenes being filmed in the Xinjiang Uyghur Autonomous Region of China (XUAR). By September 2017, when Mulan producer Niki Caro posted on her Instagram accounts photographs of Xinjiang's deserts where filming was taking place, oppressive leader Chen Quanguo was already leading Xinjiang province with an iron, cruel grip.
As filming was taking place, human rights and religious freedom organizations across the world were already well aware of the multitude of human rights violations were being waged against Xinjiang's Uyghurs and other minorities: arbitrary and prolonged detention, physical torture, sexual abuse, forced sterilization, and political re-indoctrination.
Multiple viewers of the new Mulan were shocked to see that special thanks were given to various Xinjiang agencies in the movie's credits roll. Multiple propaganda organizations were listed, as well as the Turpan Public Security Bureau, which is responsible for overseeing construction and operation of internment camps as well as mass surveillance. Below are just some of the thousands of tweets calling for a boycott on Mulan:

In fact, the egregious violations of human rights and dignity carried out by the Bureau are so well evidenced and widely acknowledged that in October 2019, the United States Bureau of Industry and Security of the Department of Commerce placed the Turpan Municipal Bureau of Public Security on its Export Administration Regulations Entity List for "acting contrary to the national security or foreign policy of the United States."
In our letter we call on Disney to (1) be transparent regarding what agreements and transactions- if any- they engaged in with Xinjiang agencies and/or officials, (2) inform the public on what human rights appraisals and due diligence was conducted prior to such engagements, and (3) never again foster cooperation with agencies involved in systematic human rights and religious freedom violations.
See Jubilee Campaign letter addressed to Disney Executive Chairman Robert Iger and CEO Bob Chapek below:
Click here to view the letter the United States Congress submitted to Disney. This bipartisan letter was signed by Senators Marco Rubio, Robert Menendez, Tom Cotton, Jeffrey Merkley, Ben Sasse, Thom Tillis, Marsha Blackburn, Ted Cruz, James Lankford, Kelly Loeffler, and Members of Congress James McGovern, Christopher Smith, Tom Malinowski, Mike Gallagher, Marcy Kaptur, Liz Cheney, Rick Scott, Steve Daines, and Pat Toomey. View some excerpt of the letter below:
Click here to view and sign on to StopGenocid.org petition titled "Stop Disney Profiting From Genocide". StopGenocide.org's petition makes the following demands to Disney:
Update November 2020
Jubilee Campaign received a reply from the United States Department of Commerce, to whom we sent the original letter- as well as an accompanying cover letter- making the following requests:
"We respectfully request that the U.S. Department of Commerce conduct comprehensive investigations into any and all transactions, agreements, exports, and engagements that occurred between Disney and local Xinjiang entities. We also encourage you to publicly call on Disney to meet its standards of corporate social responsibility.
See below the response received from the Department of Commerce:
Jubilee Campaign commends the actions taken by the United States Department of Commerce in response to the ever-evolving trends of human rights violations in Xinjiang, and we also would like to call on the international community to do the same. If you stand for human rights and religious freedom, reach out to your local representatives, your national government, and urge them to leverage all possible political and economic tools to hold China accountable to the campaign of mass detention of millions of its own civilians. Write emails, write letters, send tweets, engage on social media, and do everything within your own power to raise the situation so that we can truly ensure that never again is an ethno-religious community targeted for persecution and genocide.
#BoycottMulan #StandWithUyghurs