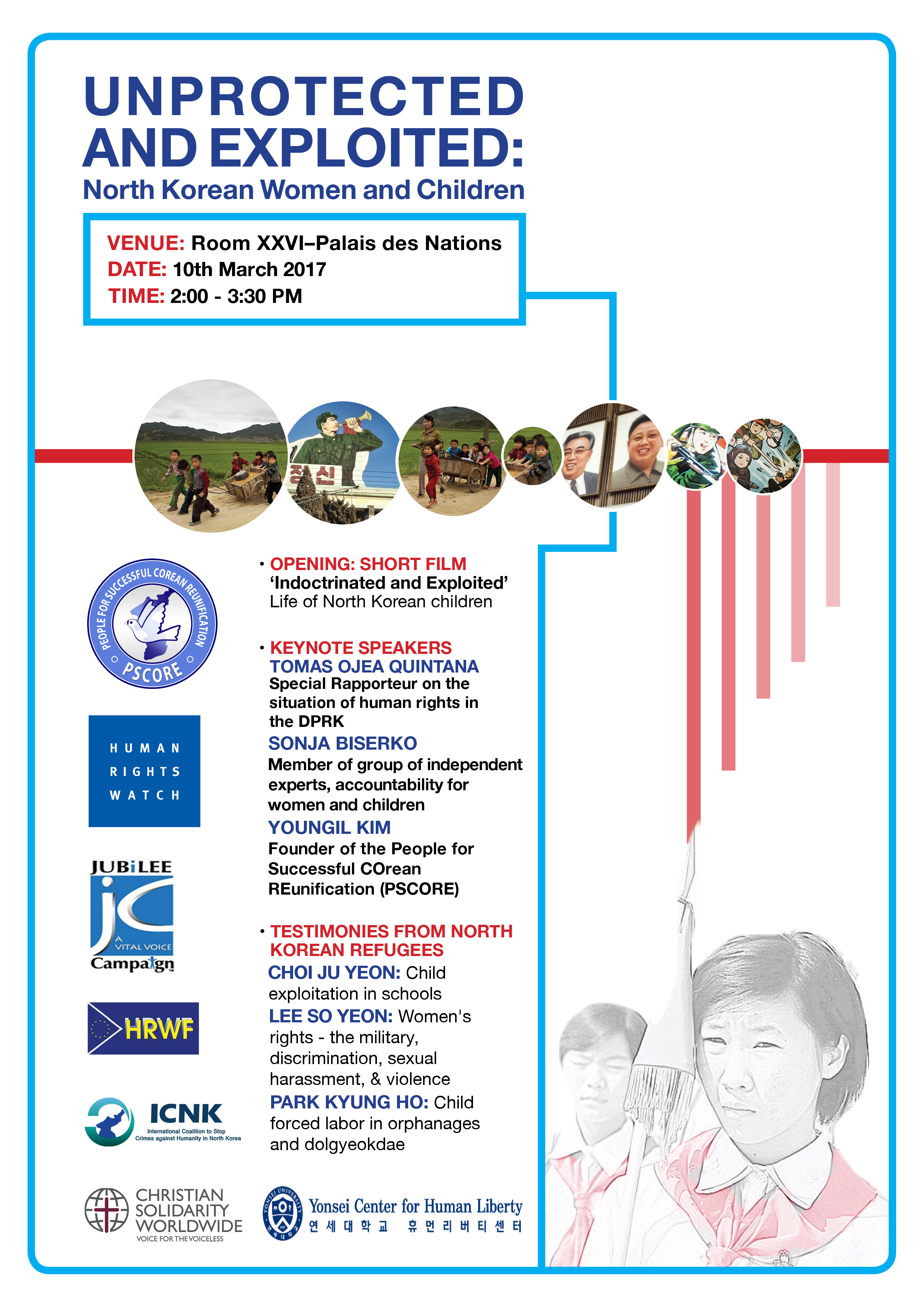 UN: Justice for North Korean Women and Children
ICNK Co-Sponsors Panel Discussion in Geneva on March 10
(Geneva, March 10, 2016) – The North Korean government needs to answer for its systematic violations of the rights of women and children, a coalition of expert groups said today, ahead of a panel discussion on the topic. The coalition includes People for Successful Corean Reunification (PSCORE), Human Rights Watch, and the International Coalition to Stop Crimes Against Humanity in North Korea (ICNK).
North Koreans who have escaped the country report that the government systematically indoctrinates and exploits people from childhood, and fails to take action against acts of physical and sexual violence against women and girls. "Women and children who are abused in North Korea have no way to ensure their voices are heard and nowhere to turn to for protection," said Phil Robertson, deputy Asia director at Human Rights Watch. "The Human Rights Council needs to be a light in the darkness for these people, and pressure Pyongyang's rulers to treat women and children's rights with the importance they deserve."
The event "Unprotected and Exploited: North Korean Women and Children" takes place on March 10 at 2:00 p.m. in room XXVI at the Palais de Nations in Geneva, on the sidelines of the 34th session of the Human Rights Council.
It will feature two international experts: Tomás Ojea Quintana, the new special rapporteur on
the situation of human rights in North Korea; and Sonja Biserko, expert of group of
independent experts on accountability, and former member of the Commission of Inquiry (COI)
on North Korea. Three North Korean escapees will also share their experiences, including Choi
Ju-Yeon, who was forced to do hard labor in school; Lee So-Yeon, who will talk about
discrimination and violence against women and girls; and Park Kyung-Ho, who was first forced
to labor in an orphanage, and then later in paramilitary brigades.
The organizers of the event, joined by Christian Solidarity Worldwide, the Jubilee Campaign,
and Human Rights Without Frontiers, call for North Korea be held accountable for its failure to
comply with its commitments as a state party to the Convention on the Rights of the Child, and
the Convention on the Elimination of Discrimination against Women.
Former Korean Workers Party officials who have escaped the country told researchers from the
assembled groups that government authorities do not acknowledge cases of child exploitation,
nor consider acts of violence against women as serious crimes, so they rarely prosecute
perpetrators and do little to protect victims.
North Korean students and teachers told Human Rights Watch that their schools have forced
them to work without pay on farms for a month at a time at least twice a year – during the
ploughing and seeding of the fields, and again to harvest the crops. Other forced labor includes
gathering scrap metals and old paper, breaking rocks transporting them, gathering firewood,
picking wild greens, and growing crops such as corn, radish, potatoes or cabbage.
The government has also compelled numerous North Korean children to join paramilitary
forced labor brigades when they reach the age of 16, and work for extended periods of time
without pay. These brigades are controlled and operated by the ruling Korean Workers Party,
have military structures, and work primarily on construction of buildings and other forms of
basic public infrastructure.
"Exploitation is just a normal part of everyday life for any child in North Korea whose parent
cannot pay bribes to avoid it," said Kwon Eun-Kyoung, Secretary General of the ICNK. "The
government calls it an expression of loyalty, but anywhere else in the world, it is considered a
horrible crime to condemn and halt immediately."
North Korean escapees and party officials allege that unwanted sexual contact, such as men
indiscriminately touching women's body parts on trains and in public areas like markets, is
common. Also, under the current economic system, in which government regulators are almost
all men, women are particularly vulnerable to coercion, which can include both sexual demands
and bribes. The cost of refusing such demands can include arbitrary arrest, being sent to prison
or forced labor camps for engaging in market or trading activities, confiscation of goods and
money, increased future scrutiny, being deprived of means of transportation or business
opportunities, and facing increased physical and sexual violence.
The United Nations' COI on rights abuses in North Korea found in 2014 that the gravity, scale
and nature of violations revealed a state without parallel in the contemporary world, and added
that the violations amounted to crimes against humanity. The Human Rights Council and the
UN General Assembly have repeatedly condemned the human rights situation in North Korea.
The UN Security Council has recognized the gravity of the situation by addressing North Korea's
bleak human rights record as a threat to regional peace and security as a formal agenda item
three years in a row.
"The Human Rights Council should urgently provide additional financial support and expertise
in international criminal justice to its office in Seoul," said Young Il Kim, director of PSCORE.
"Women and children in North Korea need the international community to stand with them
and make sure these unchecked abuses end."
The International Coalition to Stop Crimes against Humanity in North Korea is a joint effort of
over 40 human rights groups worldwide that seeks to protect the human rights of North Koreans
and to hold the Pyongyang government accountable for its abuses and violations of the human
rights of the North Korean people.
Members and supporters of the Coalition include:
Advocates International Global Council
Asia Justice and Rights
Asian Federation Against Involuntary Disappearances
Asian Human Rights & Humanity Association of Japan
Burma Partnership (Thailand)
Christian Lawyers Association for Paraguay
Christian Solidarity Worldwide
Committee for Human Rights in North Korea (USA)
Conectas (Brazil)
Council for Human Rights in North Korea (Canada)
Freedom House (USA)
NK Watch (ROK)
Free North Korea Radio (ROK)
Han Voice (Canada)
HH Katacombs (ROK)
Human Rights Watch
Human Rights Without Frontiers (Belgium)
Inter-American Federation of Christian Lawyers
International Federation for Human Rights (FIDH)
COMJAN (Investigation Commission on Missing Japanese Probably Related to North
Korea)(Japan)
Japanese Lawyers Association for Abduction and Other Human Rights Issues in North Korea
Jubilee Campaign (USA)
Justice for North Korea (ROK)
Kontras (Indonesia)
Liberty in North Korea – LiNK (USA)
Life Funds for North Korean Refugees (Japan)
Network for North Korean Democracy and Human Rights (ROK)
NK Intellectual Solidarity (ROK)
No Fence (Japan)
North Korea Freedom Coalition
Odhikar (Bangladesh)
Open North Korea (ROK)
People In Need (Czech Republic)
PSCORE (ROK)
PSALT NK (Prayer Service Action Love Truth for North Korea)
Robert F. Kennedy Human Rights (USA)
SARAM – Für Menschen in Nordkorea (Germany)
The Simon Wiesenthal Center (USA)
The Society to Help Returnees to North Korea (Japan)
Students Alliance for Human Rights in North Korea (ROK)
World Without Genocide (USA)
Young Defectors' Alliance for North Korean Human Rights (ROK)
Yuki Akimoto, Burmainfo (Japan)
Tomoharu Ebihara
David Hawk, Visiting Scholar, Columbia University, Institute for the Study of Human Rights,
and author of Hidden Gulag
Ken Kato, Director, Human Rights in Asia (Japan)
Tomoyuki Kawazoe, Representative, Kanagawa Association for The Rescue of Japanese
Kidnapped by North Korea / Member, Reporters Without Borders
Suzanne Scholte, Seoul Peace Prize Recipient & Defence Forum Foundation (USA)