Since the military-led coup of the democratically-elected civilian government of Myanmar on February 1st of this year, violence and displacement have grown increasingly and disconcertingly worse. On Saturday, March 27th the Burmese military broke its cease-fire agreement and began launching multiple airstrikes on civilian communities in Karen State, including young children, anti-coup protesters, and ethnic groups. In just that single day, 114 lives were cut short.
The Karen National Union – the ethnic armed group governing Karen State and actively opposing the military coup – noted that yesterday alone, airstrikes near Hsaw Hti township had killed six civilians and severely wounded 11. One of those that perished was a 5-year-old boy, and another 12-year-old girl faced lacerations on her face from bomb shrapnel. However, these stories represent just a few of the hundreds of deaths and injuries; advocacy organization Assistance Association for Political Prisoners estimates that military forces have killed no fewer than 521 civilians and arbitrarily detained some 2,600 since the outset of the February coup.
It is also estimated that upwards of 10,000 Karen state residents have fled into neighboring Thailand to seek safety amidst the attacks; however, there is a general lack of clarity regarding whether Thailand is ready or willing to receive these refugees. Thai Prime Minister Prayuth Chan-ocha said in recent days that "We don't want there to be a mass migration into our areas but we must also keep human rights in mind [….] We won't push them back. If they are having fighting, how can we do so?" In spite of these statements, humanitarian organizations based in Thailand have reported that some thousands of Burmese refugees are being forcibly pushed back into Myanmar, and thus, back into the line of fire.
On Wednesday morning, in response to the ever-growing list of civilian casualties not just in Karen state but throughout the entirety of Myanmar, guerrilla fighters of the Kachin Independence Army launched a revenge attack on a police station in Shwegu township of Kachin state, injuring one officer. The Kachin guerrillas have been involved in a handful of retaliatory attacks on government entities and outposts since the February coup and in response to military-led violence.
Just one day prior, the Karen National Union, along with three other guerrilla organizations including the Arakin Army in Myanmar's west-coast Rakhine State – has stated its intention to initiate a "spring revolution" if the military attacks and violence does not cease. Dr. Sasa, envoy of the civilian government representative body the Committee Representing Pyidaungsu Hluttaw, revealed that an interim constitution is even in the works and is being collaborated on by ethnic groups and civil society organizations. Dr. Sasa explains, "if (the international community) fails to take action, of course unavoidable all-out civil war and more bloody days and more bloody weeks and more bloody months await ahead of us."
In response to last weekend's brutal assault on civilian communities by the military, and its continuation into this week, the United States Department of State has ordered non-essential diplomats to exit Myanmar; at the same time, the Biden administration formally adjourned a 2013 trade agreement with the nation, stating that it would not be reinstated until a peacefully and democratically-elected government is installed.
United States Ambassador to Myanmar, Thomas Vajda, released the following statement in both English and Burmese: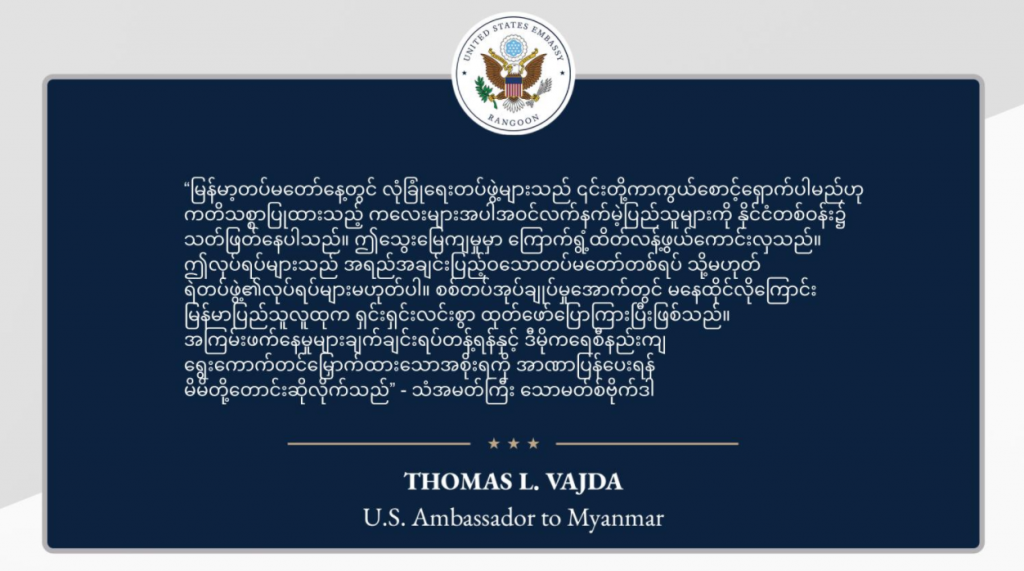 Meanwhile, the Chiefs of Defense of Australia, Canada, Germany, Greece, Italy, Japan, Denmark, the Netherlands, New Zealand, South Korea, the United Kingdom, and the United States issued a joint statement:
"As Chiefs of Defense, we condemn the use of lethal force against unarmed people by the Myanmar Armed Forces and associated security services. A professional military follows international standards for conduct and is responsible for protecting – not harming – the people it serves. We urge the Myanmar Armed Forces to cease violence and work to restore respect and credibility with the people of Myanmar that it has lost through its actions."
Dr. Sasa, already previously mentioned, and who also serves as the Myanmar Special Envoy to the United Nations, has urged coordinated international sanctions on the Burmese military and called upon Russia and China to stop all arms sales to the armed forces, as weapons are being used to "terrorize 54 million […] people of Myanmar every day, every moment, every second."
---
Cover image by AK Rockefeller on Flickr (CC BY-SA 2.0)