This week Jubilee Campaign is highlighting cases of religious persecution and discrimination in Pakistan in light of World Day of Social Justice on February 20th.
Talib Masih

On July 30, 2009, Talib Masih was accused of desecrating a Quran by local Muslims. Talib was a resident of Korian Village 362 JB District Toba Tek Singh and worked as a scrap collector at the time of the incident.
He was confronted by approximately 10 Muslims accusing him and his son of desecrating a Quran at a marriage ceremony that occurred a week prior. When Talib denied the accusation, the men began violently beating Talib causing injuries. People started gathering around to watch when two of Talib's children rescued him. Local Muslims were given instruction from the Mosque to kill Talib on the spot if they saw him.
The family fled the village and took refuge in a nearby field for the night, as an angry Muslim mob attacked the Christian village of Korian. The mob burned 47 homes. It is reported that there were over 800 Muslims armed with firearms and explosives, incited by the religious leaders announcing "kill the blasphemers."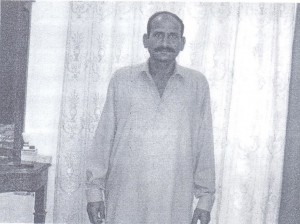 On August 1, 2009, Gojra city, another Christian area, was attacked because of the blasphemy accusations brought against Talib and his son. More attackers gathered as messages spread that it was a duty for the Muslims to protest because Islam was being threatened. Over 20 additional homes were burned and 8 Christians were killed, including women and young children.
Talib remained in hiding in Lahore, Pakistan for nearly two years before fleeing to Bangkok, Thailand to seek refuge from the UNHCR. After waiting approximately 2 years for his case to be reviewed, the UNHCR denied his claim. He was denied resettlement again last year after filing an appeal. Talib now remains in Bangkok attempting to appeal his case yet again.
Efforts have been made in the U.S. to urge Pakistan to repeal their blasphemy laws. In June 2015, Congressman Joe Pitts and Congresswoman Sheila Jackson-Lee introduced H.Res. 290 "Calling for the global repeal of blasphemy laws." The resolution calls on the President and State Department to make repealing blasphemy laws a priority topic when dealing with countries with such laws. It also urges for Pakistan to be designated as a Country of Particular Concern by the State Department. To learn more about the resolution, click here.
In honor of World Day of Social Justice, and on behalf of Talib Masih and all the other victims of blasphemy, we urge you to contact your Representative and ask them to support H.Res. 290. Unsure who your representative is? Find out here!
We will also be sending a petition to Secretary of State Rex Tillerson on World Day of Social Justice asking him to designate Pakistan as a Country of Particular Concern. Please sign the petition and spread the word!