ChinaAid, one of Jubilee Campaign's leading partner organizations, provides the most updated information regarding the plight of Christians in China. Despite the pandemic that wreaked havoc all throughout 2020, ChinaAid did not stumble, and continued its advocacy and work exposing the Chinese Communist Party's persecution of people of Christian faith, in particular pastors and members of underground church networks. Jubilee Campaign welcomes the release of ChinaAid's Annual Persecution Report 2020, and summarizes some of the biggest takeaways below. Please continue to support ChinaAid in its unrelenting activism.
Sinicization of Christianity – The CCP's State Administration for Religious Affairs relayed a message on 23 December, urging the nation's Catholic and Christian communities to "rally around the CCP's central government with comrade Xi Jinping at the center", "adhere to the path of religious Sinicization", and work towards a "modern socialist country." The Three-Self patriotic Movement (TSPM) and Christian Council of China (CCC), under the jurisdiction of the Communist Party, organized patriotic education field trips and rewrote certain passages of religious texts to minimize the religious aspect, promote Chinese patriotism, and distort Christianity.
Demolition and Desecration of Churches – Local authorities and outfits of the Communist Party, along with construction companies under the control of the CCP, demolished tens of churches and private houses used to conduct clandestine worship. During some of these mass demolitions, videos were filmed and circulated showing construction workers verbally harassing church members protesting the destruction of their places of worship. Some of the congregation members who attempted to further film the incidents were physically subdued. In some instances in which churches themselves weren't completely demolished, government authorities would dismantle and confiscate church crosses. Throughout the year, authorities would also conduct numerous raids and ambushes on church gatherings, where they would harass, intimidate, physically assault, and arrest worshippers; Christians were left with minor-to-severe injuries.
Arbitrary Arrest and Imprisonment of Pastors – Authorities have detained numerous Christian pastors and church leaders on superfluous and unfounded charges of "inciting subversion of state power". Pastor Zhao Huaiguo of Bethel House Church was arrested for searching about the pandemic on the internet; Pastor Jia Zhiguo was detained after he repeatedly refused to sign documents banning individuals under 18 years old from entering his church; Pastor Li Juncai was falsely accused of embezzlement and 'obstructing government administration'; Father Liu Maochu was detained and physically tortured for being an unregistered priest and refusing to join the Chinese Patriotic Catholic Association. Tens more Christian priests and church leaders have been arbitrarily detained, imprisoned, and disappeared.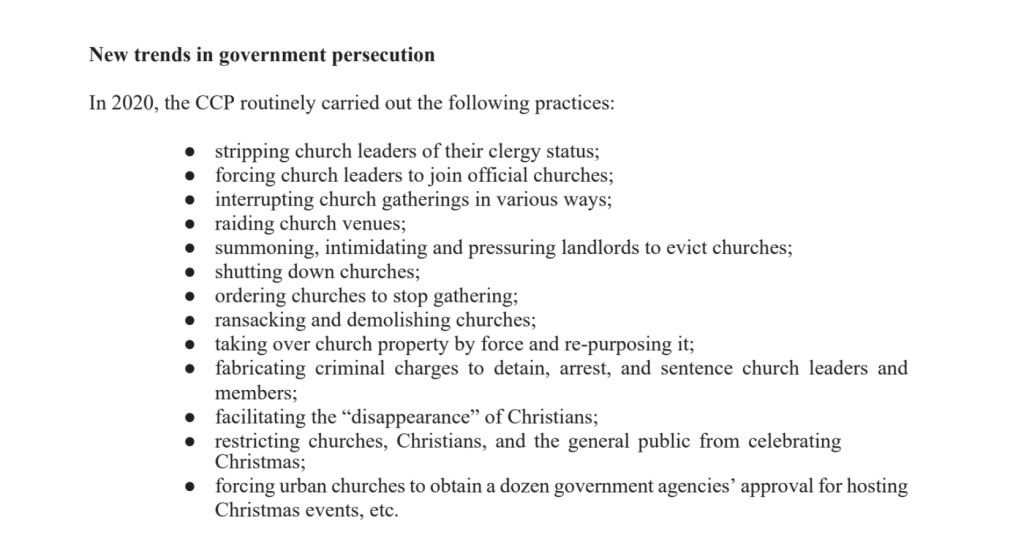 Criminalizing the sale of Christian texts – An individual by the name of Mr. Hu was summoned to the local security bureau in Wuhan, where he was forced to show that he had purchased Christian books from an online store; they warned him and explained to not make similar purchases again. Two Christians in Guangdong Province were detained and are currently awaiting sentencing for printing 7,000 copies of a children's Bible. 67-year-old father of Jie Lijian was detained and had his biographical data taken from police after his son sent him a package of Bibles. Many of Jie Lijian's other family members were similarly interrogated regarding where the Bibles were purchased and how often they were meeting as a family for worship. Chen Yu, an online Christian bookseller, was charged for "selling illegal overseas religious publications online" and sentenced to seven years in prison.
Arbitrarily Limiting Christmas Celebrations – In the weeks leading up to 25 December, the CCP publicly announced a ban on the Christmas holiday. Such a proscription was undertaken in numerous ways: at college campuses, students were required to remain on campus on 24 and 25 December; a government-planned protest had banners claiming 'Christmas, Get Out of China!'; the Taihu Catholic Church, despite receiving prior approval to host Christmas services, had its attendee limit significantly reduced by authorities; police officers raided the home of a couple who were members of the Chengdu Early Rain Covenant Church to prevent them from hosting an online Christmas event; Christmas carolers were temporarily detained and interrogated.
Targeting Christian human rights activists and lawyers – Christian Li Qing was detained for 15 days and, following her release, was surveilled and prevented from leaving her home by authorities; she was targeted for attempting to deliver a petition regarding her husband's murder. Jiang Zhanchun, a member of Beijing Holy Love Fellowship, was arbitrarily detained and charged with 'picking quarrels and provoking troubles." Authorities detained and sentenced to imprisonment Christian human rights lawyer Zhang Zhan for being critical of the CCP's human rights violations and response to the COVID-19 outbreak, and also for her support of Hong Kong protests; during the detention period prior to her court hearing, she started a hunger strike but was forcibly intubated. Christian lawyer Qin Yongpei was charged with "inciting subversion of state power" for using social media to criticize the CCP and discuss politics.
---
Cover image by Angela Xu on Flickr (CC BY-NC-ND 2.0)