On January 18, 2021, Lord Alton of Liverpool issued a press release highlighting the plight of the Uyghurs under China's repressive and even genocidal persecution, and called upon the UK Parliament to take decisive steps to hold China accountable and provide justice to the thousands of victims under its regime. The list of atrocities committed by Chinese authorities under government jurisdiction against Uyghurs is endless:
"What word comes into your mind when you hear evidence of a State complicit in the destruction of a people's identity; complicit in mass surveillance; complicit in forced labour and enforced slavery; complicit in the uprooting of people, the destruction of communities and families, the prevention of births, the ruination of cemeteries where generations of loved ones had been buried? What word comes to mind when you hear of people being re-educated to believe that you, your people, your religion, your culture, never existed – and the certainty that through ethno-religious cleansing, you will cease to exist and give thanks to the Communist Party for your liberation?"
There are actually a few words that come to mind: 'massive human rights violations', 'crimes against humanity', and most importantly, 'genocide.' That is what is happening in China right now. But, as Lord Alton urges, it is past time for the world to hold China accountable. While news over the past two years in 2019 and 2020 have shed a blinding light on the current situation – modern day concentration camps, Uyghurs being led onto trains and transported across the mainland to engage in forced labor, hung up on the wall and physically abused and tortured – Lord Alton has been raising the issue as early as 2001. That is 20 years of inaction on the Uyghur crisis and genocide.
And while Lord Alton continuously raised the situation of persecution specific to the Uyghurs in Xinjiang, not only have we seen negligible world action, but we have also seen the persecution pervade to other minorities in China – especially Christians, Falun Gong practitioners, and Tibetan Buddhists:
"Shocking footage smuggled out of China in 2018 showed the dynamiting and demolition of the Golden Lampstand Church in Shanxi Province. Built in 2009 it was one of the largest evangelical churches in China. But buildings have been the least of it. Each piece of evidence adds to the argument that the atrocities against the Uighurs amount to international crimes, and highly likely, genocide, although, without the enactment of the Genocide Amendment, having such a determination made is virtually impossible because of the CCP's ability to veto a referral to the International Criminal Court."
And that is precisely what is at stake. Just today – January 19, 2021 – Lord Alton revealed on his personal Twitter account that the All-Party Genocide Amendment to the Trade Bill failed to pass via the House of Commons. The Genocide Amendment would finally recognize the situation of the Uyghurs in China for what it really is, and would permit the UK to take even more imperative steps to hold China accountable. However, Lord Alton, while recognizing the temporary defeat, has not lost hope: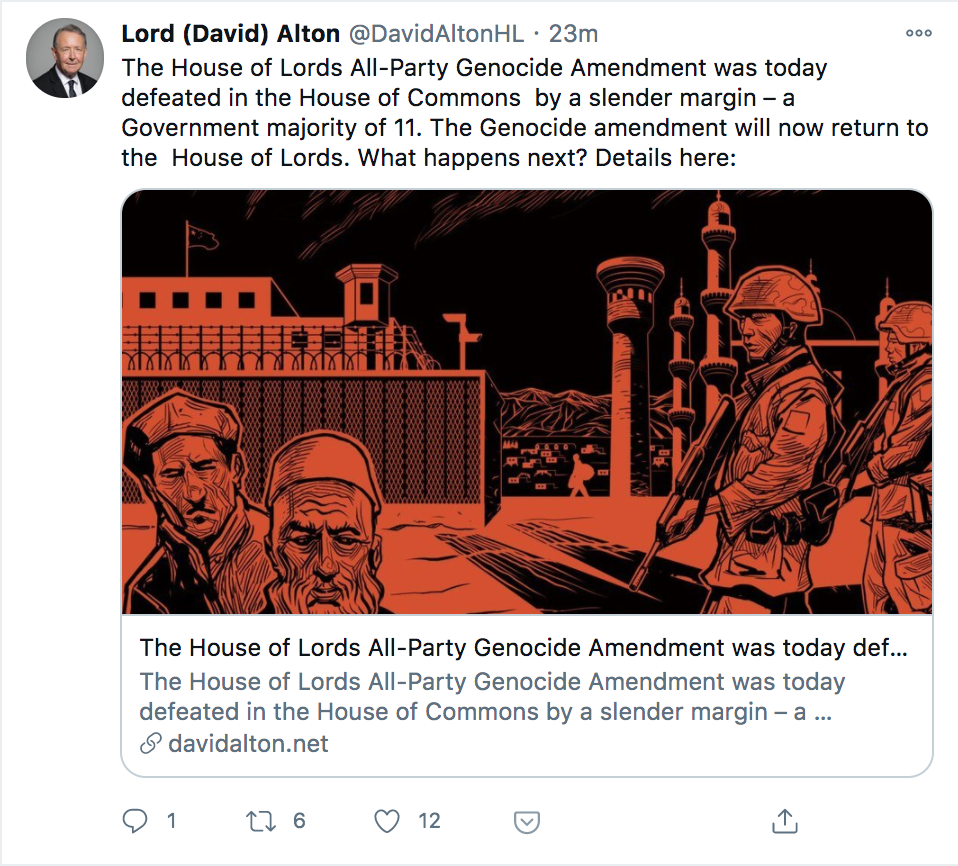 "The Genocide amendment will now return to the House of the Lords which will be asked to consider a refined version – which, if agreed – will go back to the House of Commons. Just 6 more good men and women on the Conservative benches need to change their minds and the High Court will be given the task of deciding whether a Genocide is under way in States with which we have trade agreements."
Lord Alton also presents the heart-wrenching testimonies of a few Uyghur and Muslim survivors of the genocidal Chinese system. One Chinese Kazakh Muslim woman, Sayragul Sauytbay, was imprisoned in China in 2017 before eventually escaping and seeking asylum in Sweden. Reflecting on her memories, she reveals that she and some twenty other prisoners were kept in a tiny room, handcuffed 24 hours a day, surveilled by cameras, and forced to sing propaganda songs worshipping the Chinese Communist Party – "Thank you to the Communist Party; I love Xi Jinping."
Another woman who has since escaped from China to Turkey, Ruqiye Perhat, reported being raped by prison officials multiple times, becoming pregnant twice as a result, and being forced to undergo abortions.
Genocide is no longer even a question – numerous human rights organizations, some national governments, have all recognized that the standards of genocide have exceedingly been surpassed with regards to China's treatment of Uyghurs and other minorities. Now, the only question is how much longer the world – including the UK – is willing to push off the genocide determination at the expense of the lives of thousands of Uyghur and other individuals who live in a modern crisis that rivals that of 1940s Holocaust.

"The issue for Parliament is whether it will allow the evidence and testimonies of women like Rahima Mahmut, Gulzira Auelkhan, Sayragul Sauytbay, and Ruqiye Perhat to be considered by our High Court, or not – and whether to allow the crime above all crimes to be given the name which, for decades, has not been allowed to speak its name. Genocide should no longer be allowed to be the crime that dares not speak its name."
Cover image by Jack Fitzsimmons on Flickr (CC BY-NC 2.0)